Dear amazing business woman!
It is a pleasure to personally invite you to The Brisbane Deborah Conference on SATURDAY 11 NOVEMBER 2017. I want you to know that this is a business conference that will inspire and encourage you in more ways than one!  I want to see the wings of the magnificent business dream God has put on your heart expand: that you might soar higher, wider, deeper and further.
You can attend The Deborah Conference 

in person

or you can attend via livestream.(AEST).
The inaugural Deborah Conference was held in Adelaide on 11 February 2017 and the theme was 'My Mission Field is my Business'. The Conference is held in at least one Australian city and one overseas city each year. – the first overseas city will be Hamilton, New Zealand on 10 March 2018. Each conference has a different theme. The theme for the 11 November 2017 Brisbane Conference is:
 Release the words He has given you to
write

and

speak

Jeremiah 20:9

But if I say, "I will not mention his word or speak anymore in his name," his word is in my heart like a fire, a fire shut up in my bones. I am weary of holding it in; indeed, I cannot." 

All of us as business owners write or speak in some shape or form, some of us will write books, others will speak at conferences and various events. For others it could be the words spoken to clients/customers or the vision God has given you to write down for your business or the social media posts you do. Each of us have Kingdom influence through the power of our words. We are called to speak and write his words. It is my prayer that the words God has put in us to write and speak would burn like a fire shut up in our bones. Like Jeremiah we would say we can no longer hold them: indeed they must be released.

For me being a God-lover means walking in relationship with God – taking time to pray, to read His Word, and to acknowledge Him in what I do. God is for us and not against us.This conference is not about sitting around in a huddle holding hands and singing Kumbaya my Lord! No this conference is about setting our focus on how we can grow our businesses through powerful strategies from digital marketing and number crunching through to networking and talking with God. This conference is jam-packed with practical and actionable steps to take your business to the next level.

You will find all the women speaking, very down to earth and approachable. We by no means have it all worked out – just like you we slip, we fall, we trip over. We don't record how many times we read the bible LOL and we certainly are not afraid to say that we, like you, are on a journey of loving God and allowing our God to work in and through our businesses. Sometimes we can see the word Christian Business Conference and our heart can go 'On no!'! Thoughts such as: 'the Church wants my money' or 'here we go again I am going to feel I don't measure up because I am not on 12 rosters at Church', or 'I don't pray and fast enough' or 'in fact I have been so turned off by Church and them not understanding that I could be a business women that I haven't gone for some time'.

Gals we get it, I get it! God is not about rules and regulations, He is about relationship. My heart in creating this conference is to ignite a fresh, fun and faith-activated focus to how our God has called us as women in business. Like the great prophetess Deborah in the bible, we would move boldly, so knowing He has called us to shape the course of history. We are called to be action takers, innovators and solution-seekers. I so look forward to partnering with you to champion your business success! Our God is good and He is faithful. Come join us on this journey!

Love Maree xx

Founder – The Deborah Conference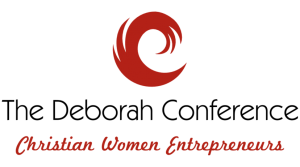 PHOTOS: Inaugural Deborah Conference, 11 February 2017, Adelaide
'My Mission Field is my Business'