Who is Deborah?
AWAKE O DEBORAH AWAKE (Judges 5)
Deborah was one who received fresh mandates from heaven, and though she knew how evil the oppression of King Jabin was, she also knew that with God anything is possible!. Something in Deborah knew how to pull on the resources of heaven, stand in the counsels of the Lord (Jeremiah 23) and open her mouth and let Him fill it (Psalm 81:10).
 Passionate Pursuit | Purpose | His Presence
Seeing in the heavens and moving with prophetic proclamations, Deborah released the warrior angels of the Lord to fight ancient demonic principalities. Deborah knew the enemy's schemes and helped to empower the war in the heavens, destroying the enemy. She brought holy reversal to the evil plans. In her moment of crisis,
As a prophetess and military strategist, Deborah called the nation to war. She was a military strategist who not only wielded the hand of God but also operated with the heart of God. You see, Deborah was a deliverer! She loved the people and they loved her. She delivered them from a great enemy.
Our Mandate
Shifting the course of history
For Deborah, intercession was a dialogue in which she began to download strategic war plans, blue prints from heaven, and keys to open doors that no man can shut and shut doors that no man can open (Isaiah 22:22). Deborah decreed the Word of the Lord and creation bowed to her command. Her prayers and military governmental leadership shifted the course of history and saved the nation of Israel.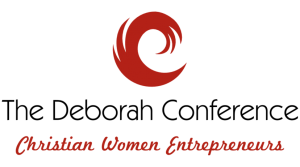 The Deborah Conference was BRILLIANT. So good to experience an event with so many women sharing their incredible stories and their special business tips. Super practical and very relevant.
"MOMENTUM ………Some strategies I will have you lay your hands to in this season may seem completely opposite to what you imagined, they may not make sense in the natural, but follow My leading, follow My prompting. Don't follow what you have done before, or what you think will work, follow the blueprint I will release to you, strategies I will give you through My Word, and you will see MORE breakthrough and fruitfulness, favour and increase in those strategies than the ways that could be manufactured. The season upon the body of Christ is glorious, what I am doing and how I am going to show up in greater ways will leave you in awe, but you must make room through your surrender to Me." Extract, Prophetic Word, Lana Vawser, 12 August 2017.
"God is inviting Deborah's to wake up, rise up, and be a voice: you were created for a season, for such a time as this."  Julie Meyer shares a significant message for these times – click on the link for the video clip, 21 May 2017. Morning Star Ministries 
"I had a dream about two years ago where I saw the women rising up with wings like eagles to become some of the most amazing ministers of our time. When the men of Israel were weak God raised up Deborah. The Deborahs are rising in this hour." 18 July 2017, Darren Canning, Painter, Blogger, Preacher, Darren Canning Ministries
THE CALL FOR THE DEBORAH GENERATION TO WAKE UP & COME FORTH IS #GLOBAL!  Pastor Veronica says 'Deborah was an incredible woman of faith in her day. She was a judge, prophet, valiant warrior, governmental leader, all in one package. She knew God's timing and nature to deliver His people from oppression, and received God's wisdom and strategy to bring victory to her nation. The Deborahs of God are arising! They are mounting up together to ride and say, "We will feed the poor, take care of the orphans, preach the gospel, help eradicate poverty, and free slaves and those bound in prostitution! We will have a voice in our nations.'
The call is announced for the Deborah Generation to wake up!  She says 'In our desire to make a difference as women, we must learn to speak God's voice against the forces of darkness and claim the promises from God's Word in the face of impossibility. When we believe, nothing is impossible to us. No demon can stand before us. Isaiah 30: 31 says: "For through the voice of the Lord shall the Assyrian be beaten down." In other words, when we prophesy God's Word or release God's voice, every enemy is beaten down and utterly defeated. Woman Arise and Take your Place!'  Pastor Gerald Rovis Masinde and his wife Veronica Masind
I had the amazing privilege to be able to attend The Deborah Conference #TDC18. With a selection of peer speakers from around the country, bringing a bit of education, a bit of their journey and experience and loads of encouragement, it was truly an inspiring day!